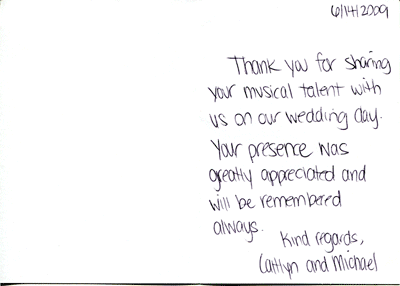 Dear Marina & Agitato Strings...
We loved your performance and we can't
thank you enough for sharing your
incredibale talent with us on our wedding day. Thank you!
-- Mariana & Anthony L, Bedminster, NJ, May 2010
Thank you for sharing your musical talent with us on our wedding day.
Your presence was greatly appreciated and will be remembered always.
-- Kind regards, Caitlyn and Michael. 6/14/2009
Marina, Evgeniy & Eric were brilliant!
ALL of my guests mentioned that this was perhaps the most intimate wedding experience they'd ever enjoyed;
Agitato Strings
is greatly responsible for that. The ambiance created by their music wasn't just the result of being highly-trained - they had the grace to guide us through the music selection process, and played with romantic flair during suitable moments all night. We were so pleased with them, we announced their group name before our guests. Everyone should have the opportunity to hire them for occasions that really make history. These are First-Class chamber musicians. Sincerely, The Princes.
-- Jessica S, Greenwich, CT, 6/27/2009
I wanted to thank you and your group for yesterday... you were simply AMAZING... a truly talented trio of musicians. I enjoyed every minute of your beautiful playing. Your Mozart was breathtaking!!! Thank you again for your utmost professionalism and flexibility and for being available on such short notice. We hope to be able to have the pleasure of hearing you again at one of our upcoming events.
-- Anna M, Washington Township, NJ, 1/24/2009
The
Agitato Strings
were great - they came out and played in the rain at Central Park!! I was quite frantic as the bride so I didn't have much time to speak to them but Marina seemed really, really sweet. Definitely recommended.
-- Katie Q, New York, NY, 5/1/2009